Art and Museums to See in St. Pete
Museums in St Petersburg Fl
Downtown St Pete houses everything from the Salvador Dalí Museum to the Florida CraftArt Gallery and everything in between. With seven art districts to decide between, you might end up with the wonderful feeling of having too much to decide from rather than too little. Each district has its own unique offerings to enrich your time here in St Pete.

Tour Rooms
General Info
With seven art districts that call St Pete home, it is no wonder that it is a known arts destination. Check out the abbreviated list below on what to see in downtown St Petersburg Fl when visiting our hotel.

Warehouse Arts District: Located in former warehouses, the art studies of this district are home to larger pieces and even heavy equipment. Make sure to stop by during the Second Saturday Art Walk to see local artists in action.

Waterfront Museum District: Home to the Salvador Dali Museum, the Museum of Fine Arts and the St. Petersburg Museum of History this district is quintessential to visit for any art enthusiast.

M.L. King North District: This developing district is focused on small galleries, locally owned business and great restaurants where you can expect to run into local artists.

The Edge District: As a top Florida destination, it is no wonder that this award-winning district is chock-full of art, craft beer, murals, historic buildings and more. Spend a day strolling the 7-blocks and everything this district has to offer.

Grand Central District: With a marvelous mixture of antique stores, galleries and retail this district will keep you busy all day. Home to Haslam's, Florida's largest new and used bookstore, you can expect a fun relaxing day meandering that many offerings this area has to offer.

Central Arts District: A robust music scene coupled with studios, galleries and Florida CraftArt will keep you coming back to hear live music every night.

Deuces Live District: Another up and coming art scene, this art district focuses on rich African American heritage of St Pete. With everything from ethnic restaurants to a variety of galleries and museums, you can rest assured your eyes and taste buds will be delighted to visit.

Are you an art connoisseur? Do you just love spending a relaxing day strolling museums? Here in St Pete, a plethora of galleries and museums are just waiting to be explored. With a variety of art districts to satisfy anyone's need close by, our hotel near St Pete is a great place for you to get the vacation you are dreaming of.
Travel Tip
Make sure to check the hours of operations for the downtown museums and galleries of your choice. It will help you choose which tour times to take and even to make sure they are open when you come stay with us at Inn on the Beach.
Orange Blossom
The Orange Blossom is located on the ground floor of the Inn with views of the garden. It comes with a queen sized bed with modem decor and natural light. The kitchenette has all the modern amenities.
Orange Blossom
Persimmon
Persimmon features many windows to take advantage of fantastic natural light and landscaped gardens. The Persimmon does have a kitchenette and the bathroom has a shower.
Persimmon
Clementine
Located on the ground floor of the Inn, Clementine Room has a queen bed and small kitchenette. The well-appointed bathroom has a shower with glass doors.
Clementine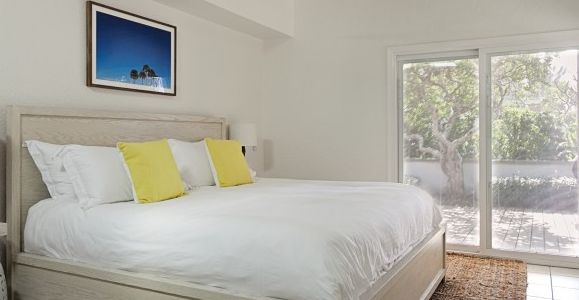 The Cottage
Next door to the Inn, this tranquil oasis has a large bedroom with a king bed plus a fully equipped kitchen. The living room is complete with seating area, cable television and a DVD player. The bathroom has a large shower. The outdoor deck has plenty of seating and a gas grill - perfect for outdoor suppers.
The Cottage