Corey Ave Market
Open every Sunday, Corey Ave Market boasts 50-80 local vendors who offer fresh organic fruits and vegetables, tasty treats, local handmade crafts, and eco-friendly & fair trade products. Enjoy the live music as you explore!
The perfect place to shop and dine!
General Info
Location and Time

On Corey Avenue between Boca Ciega Ave and Gulf Blvd, the Corey Avenue Market offers something for everyone and is located just 3 miles North of us at the Inn. This St Pete Beach event is a favorite for locals and tourists alike!

While the Market is open on Sundays from 9AM to 1PM in the summer (June through September) and 10AM to 2PM in the winter (October through May), Corey Ave itself also has many stores, eateries, galleries, restaurants and boutique shopping, in case you want to stay longer or are visiting on another day.

Below you will find a few of our favorite Corey Av Places:
Chill Restaurant
357 Corey Avenue

Open daily (most days 11AM-10PM, opening earlier on the weekends and closing early one Sunday), the Chill Restaurant features casual French fusion using fresh ingredients. Happy Hour 2-6PM on weekdays for your favorite drinks!

Frequent Live Music to liven up your evening!
Coco Addiction
344 Corey Ave
Open Wed-Sun 9AM-6PM

Artisan chocolates created by two veteran chocolatiers for all your chocolate and bonbon cravings. They also serve a great cup of locally roasted coffee.

Travel Tip
Beach Theatre
315 Corey Avenue
Beach Theatre is the oldest movie theater in the county, dating back to 1940, is currently under renovations and set to reopen soon.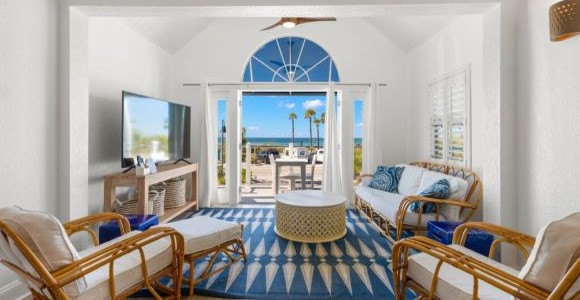 Magnolia
Located on the top floor of the Inn, the Magnolia is our "Honeymoon Suite" with Gulf and sunset views. This prime one-bedroom suite features the very best of the Inn with a king bedroom, bathroom with over-sized shower, living and dining area, fully sized kitchen, and private balcony.
Magnolia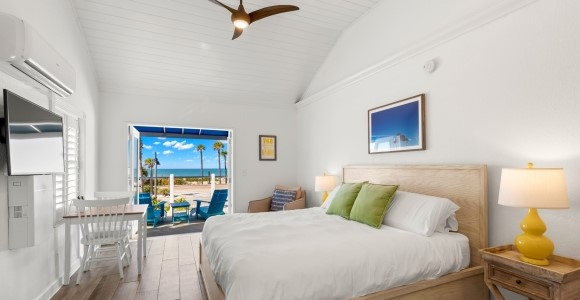 Gulfstream
Located on the top floor of the Inn, the Gulfstream comes complete with a king bed, cathedral ceiling, kitchenette, bathroom with shower, and wraparound balcony with Gulf and sunset views.
Gulfstream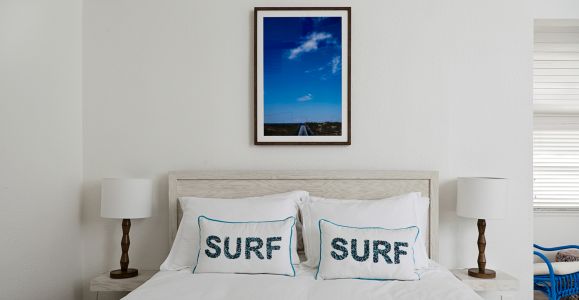 The Sea Loft
The Sea Loft is a second floor open plan apartment with a queen bed, fully equipped kitchen, living/dining area, sun porch, and balcony. The unit has cathedral ceilings giving it a spacious feel, and there are lots of windows providing stunning natural light. It's a peaceful, romantic escape just steps away from the Gulf of Mexico.

The Sea Loft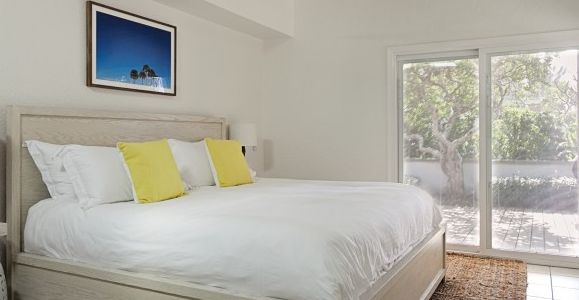 The Cottage
Next door to the Inn, this tranquil oasis has a large bedroom with a king bed plus a fully equipped kitchen. The living room is complete with seating area, cable television and a DVD player. The bathroom has a large shower. The outdoor deck has plenty of seating and a gas grill - perfect for outdoor suppers.
The Cottage