Dolphin Watching near Inn on the Beach
Are you looking for a breathtaking unique adventure to top off your St Pete Beach Florida experience? Then going on a dolphin cruise is the perfect option to explore. Due to the amazing population of 700 dolphins in the region, a dolphin encounter is an iconic activity to do while staying with us at Inn on the Beach.
There are a variety of day cruises where you can get up close and personal with our local dolphin population. Most dolphin cruises leave St Pete Beach 7 days a week! Some options include cruising with the dolphins and even visiting nearby islands. Take a break from lounging on the beach and join the excitement of dolphin watching in Florida.
Dolphin Watching in Clearwater, Florida
If you are looking to venture out of St Pete to see the dolphins, our neighboring town of Clearwater has plenty to offer. For a more up close and personal experience akin to swimming with the dolphins, check out the Clearwater Water Marine Aquarium. This marine is home to Winter, the star of the movie Dolphin Tales.

Tour Rooms
General Info
Whether you are looking for a dolphin cruise or more personal dolphin encounter, visit us at Inn on the Beach in St. Petersburg to get the experience you are looking for. With close access to dolphin cruises out of St Pete, or a short 50-minute drive to Clearwater, you have a wide variety of choices.
The Aquarium is a perfect place to bring the whole family where you can experience these fascinating creatures as a dolphin trainers assistant! This includes learning about how to take care of and feed a dolphin. There are a variety of other aquatic animals at the aquarium that you can visit, take pictures with, feed and even pet! After your visit to the aquarium, if you are still itching to see dolphins in the wild, consider taking a dolphin-watching cruise out of Clearwater.
Travel Tip
Make sure to keep updated with the weather and seasonal changes to get the best dolphin experience. Many local companies have information on their websites informing visitors which days are perfect to view the dolphins. This could be the difference from just seeing a fin, to getting the perfect picture of a jumping dolphin!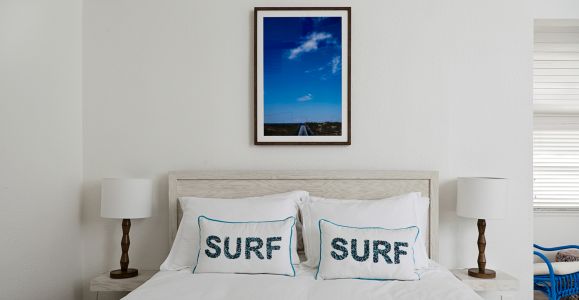 The Sea Loft
The Sea Loft is a second floor open plan apartment with a queen bed, fully equipped kitchen, living/dining area, sun porch, and balcony. The unit has cathedral ceilings giving it a spacious feel, and there are lots of windows providing stunning natural light. It's a peaceful, romantic escape just steps away from the Gulf of Mexico.

The Sea Loft
Corraline
The Corraline is bright and cheerful, features one-bedroom (king bed), a large walk-in closet, and a fully-equipped kitchen. The living-dining area looks out on the tropical plants surrounding your private patio which is just steps away from the white sandy beach. This private apartment sleeps two adults.
Corraline
Juneberry
Juneberry Room is bright and airy, with a queen bed, on the top floor of the Inn. The kitchenette has a fridge, Breville multi-funtion oven, and plenty of kitchen supplies. The bathroom has a shower and shelf space for your personal items. The entire room is air conditioned, with a flat screen TV and great Wifi. We have also stocked the room with a small cooler which can hold your beverage and snack supplies when you lounge on the beach!
Juneberry
Sunset
The Sunset overlooks the courtyard allowing the Pass-A-Grille sunshine to enter this bright and sunny room. Your private balcony welcomes views of the gulf in gorgeous Pass-A-Grille.
Sunset