Do you love outdoor festivals and events? Vinoy Park is the perfect place to see amazing views and wildlife while being close to many of the top restaurants and bars that St Pete Beach has to offer. A little over 20 minutes from your beachside oasis at Inn on the Beach, you can get a quiet morning by the ocean followed by an afternoon of fun and activity at Vinoy on the bay.
Our Hotel Near Vinoy Park in St Petersburg FL
Considered by many to be the outdoor centerpiece of St. Petersburg, Vinoy Park is a gem of relaxation and fun. Just a short walk from many of the popular destinations St Pete has to offer, you can grab a bite to eat, walk the trails and even stroll over to the Museum of Fine Arts all in one day.
Bring your hammock and set it up between the perfectly spaced palms to spend a lazy afternoon enjoying the breeze and the sounds of the waves splashing in Tampa Bay. You might even get to see a dolphin or manatee leisurely swimming by. With so many activities nearby, it's a great place to start your exploration of St. Petersburg, FL.

Tour Rooms
General Info
As a hotspot for special events going on in St Pete, you shouldn't miss out on visiting this treasure when staying at Inn on the Beach. Events like the infamous Ribfest, Tampa Bay Blues Festival, Mainsail Art Festival, and the 97X BBQ Music and Arts Festival are just a taste of what you can experience when you join us as your hotel close to Vinoy Park.
This downtown waterfront haven covers 11.6 acres with trails and large shady trees to keep you protected on those hot summer months. If you are visiting Vinoy Park during the Fourth of July, it's the prime spot to see fireworks that happen in the bay every year. Don't worry if you can't make it then, the sunset at the park is said to be a phenomenal experience all on its own.
Travel Tip
Make sure to check out the events calendar to get in on all of the action available at Vinoy Park. Ticket prices vary depending on the show or event. Make sure to check to see if the event has a limit on the tickets sold so you don't miss out on any of the fun.
Innkeeper's House
The perfect getaway for our guests who want to enjoy Inn on the Beach longer. This is a two-bedroom standalone home with plenty of room for a family of four. The Innkeeper's House features all of the at-home comforts you'd expect with a month-long stay, including its own private yard, parking, and outdoor patio.
Innkeeper's House
Corraline
The Corraline is bright and cheerful, features one-bedroom (king bed), a large walk-in closet, and a fully-equipped kitchen. The living-dining area looks out on the tropical plants surrounding your private patio which is just steps away from the white sandy beach. This private apartment sleeps two adults.
Corraline
Juneberry
Juneberry Room is bright and airy, with a queen bed, on the top floor of the Inn. The kitchenette has a SMEG fridge, Breville multi-funtion oven, and plenty of kitchen supplies. The bathroom has a shower and shelf space for your personal items. The entire room is air conditioned, with a flat screen TV and great Wifi. We have also stocked the room with a small cooler which can hold your beverage and snack supplies when you lounge on the beach!
Juneberry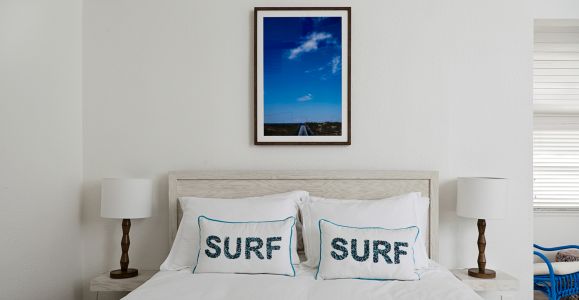 The Sea Loft
The Sea Loft is a second floor open plan apartment with a queen bed, fully equipped kitchen, living/dining area, sun porch, and balcony. The unit has cathedral ceilings giving it a spacious feel, and there are lots of windows providing stunning natural light. It's a peaceful, romantic escape just steps away from the Gulf of Mexico.

The Sea Loft
If you have any questions, please call 727.360.8844