As one of the top venues in the U.S. and the premier venue for artists, Amalie Arena events and concerts are not to be missed. Come and grab a bite from the Firestick Grill before your event or hang out at Ford Thunder Alley with all of the fans before the game. If you want a more quiet evening before the fun, there are many top 100 restaurants near Amalie Arena like Columbia Cafe, Samaria Cafe, and Eddie & Sam's NY Pizza.
Inn on the Beach near Amalie Arena Events
Are you a music fan of Justin Timberlake, Lorde, Demi Lovato, Maroon Five or a comedic fan of Kevin Hart and Jeff Dunham? Maybe you prefer the exciting music of Game of Thrones. All of these artists and shows are just a sample of the amazing plethora of choices you can pick from when choosing Amalie Arena as your events center when staying with us at Inn on the Beach.
Visit our hotel near Amalie Arena, Tampa, FL to get a relaxing morning by the beach and an exciting hockey game by night.

Tour Rooms
General Info
If hockey isn't your thing, you're in luck, the Amalie Arena is also a hotspot for many events throughout the year. From music to comedians, the Amalie is a centerpiece of entertainment in Tampa. Check out their calendar of events to see upcoming concerts, comedians and even Disney on Ice Tampa.
As host to the Tampa Bay Lightning for over 20 years, this team is one of the most thrilling teams to see. Having won the Stanley Cup, attended many playoffs and the Easter Conference Final several times, you can watch knowing you will see an exciting game. You can expect a thunderously loud and enthusiastic game with The Lightning winning over 25 of their home games each year. Join in on the fun and come stay at our hotel near the Tampa Bay Lightning Arena.

Travel Tip
If you want to make sure to be at a show or hockey game, you should purchase your tickets in advance. The Tampa Bay Lightning hockey team is in high demand, selling out their over 19,000 seats 66 times since 2014. With the season running October through April and playoffs in June, there is plenty of time to see The Bolts when staying with us at Inn on the Beach. If you schedule it right you can see your favorite artists and this amazing team all in one weekend!
Sunset
The Sunset overlooks the courtyard allowing the Pass-A-Grille sunshine to enter this bright and sunny room. Your private balcony welcomes views of the gulf in gorgeous Pass-A-Grille.
Sunset
Palmetto
Located on the ground floor, Palmetto Room has two queen beds, a fully equipped kitchenette, generous-sized shower and breezy patio. This room accommodates up to four people, including children.
Palmetto
Gardenia
The Gardenia is bright and spacious with its own private balcony with views of the gulf. The sleeping area has a queen bed, so the room accommodates two people. Enjoy the views from your comfy couch or from the Adirondack chairs on your private balcony. Fill the cooler provided with your beach snacks and head for the sand!
Gardenia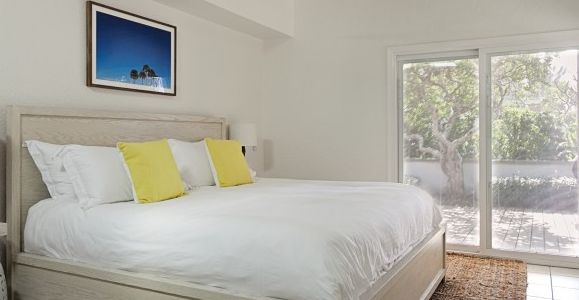 The Cottage
Next door to the Inn, this tranquil oasis has a large bedroom with a king bed plus a fully equipped kitchen. The living room is complete with seating area, cable television and a DVD player. The bathroom has a large shower. The outdoor deck has plenty of seating and a gas grill - perfect for outdoor suppers.
The Cottage