Mahaffey Theater in St Pete
Are you a big fan of live shows, ballet, or orchestra performances? Visiting the Mahaffey Theater while staying at Inn on the Beach is a great way to get a cultured night out after a relaxing day on the beach in St. Petersburg.
Inn on the Beach near Mahaffey Theater St Petersburg FL
You can find The Florida Orchestra in the beautiful Mahaffey Theater, which is located in downtown St Pete on the waterfront facing Tampa Bay. With just a short 20 minutes from Inn on the Beach, you don't have to worry about extensive traffic or being far from your cozy room. You will get to choose from performances ranging from Pops to Masterworks and Chorales with the Florida Orchestra. This world-class group showcases music for all audiences throughout its season running September to May every year.
If you are coming for a specific event and looking for a hotel near Mahaffey Theater, book Inn on the Beach to get the perfect balance of beachside leisure and St Pete fun and adventure. You will be located close to a variety of other activities such as dolphin encounters, visiting the Shell Key Preserve and more.

Tour Rooms
General Info
You can attend a plethora of fun and exciting events at the Mahaffey. Come see everything from Youth International Ballet Competitions and the magician David Blaine to Popovich Comedy Pet show and Queens of the Stone Age. With a variety of exciting and family-friendly events to choose from, you will love your visit with us at Inn on the Beach.
If you are looking for a complete dining experience before the show, make sure to book a spot at the Bayside Bistro. Located inside the Mahaffey, it is one of the most exclusive eating affairs in all of St Pete. You will get a beautiful meal overlooking Tampa Bay which includes appetizers, entrees, dessert and drinks all for under $40. This is a great way to eat and make sure you aren't battling traffic or showing up late to the show.
Travel Tip
If you plan to attend as a group of friends, family, professionals or students, you can receive discounts up to 10% on your tickets along with other personalized treatment. You can choose from transportation, drinks before the show, box lunches, a private space and more when registering as a group. Don't miss out on this great deal if you are coming to stay with us at Inn on the Beach in St Pete.
Corraline
The Corraline is bright and cheerful, features one-bedroom (king bed), a large walk-in closet, and a fully-equipped kitchen. The living-dining area looks out on the tropical plants surrounding your private patio which is just steps away from the white sandy beach. This private apartment sleeps two adults.
Corraline
Hibiscus
Hibiscus and the Palmetto share a semi-private patio overlooking the gardens. Relax and enjoy the slower pace of Pass-A-Grille at our inn on the beach. The room is cool and comfy and comes with a complete kitchen.
Hibiscus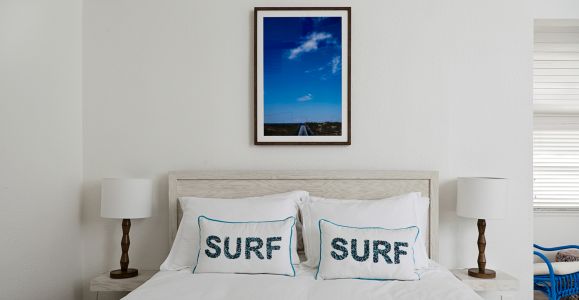 The Sea Loft
The Sea Loft is a second floor open plan apartment with a queen bed, fully equipped kitchen, living/dining area, sun porch, and balcony. The unit has cathedral ceilings giving it a spacious feel, and there are lots of windows providing stunning natural light. It's a peaceful, romantic escape just steps away from the Gulf of Mexico.

The Sea Loft
Gulfstream
Located on the top floor of the Inn, the Gulfstream comes complete with a king bed, cathedral ceiling, kitchenette, bathroom with shower, and wraparound balcony with Gulf and sunset views.
Gulfstream