Kayak St Petersburg and St Pete Beach
Kayak St Petersburg and St Pete Beach
Renting a kayak is a great way to see St Pete Beach and the surrounding area. Paddling yourself is very quiet, which makes a relaxing day out but also has another benefit- wildlife don't get frightened off the noisy engines. Often you see a lot more of Florida from a kayak!
The calm, gentle waters around St Petersburg are the perfect place for first-time kayakers but there is also enough to keep even the most seasoned paddler occupied close by. Most of the kayaks available to hire are of the sit-on-top design, which is very stable and safe, and can't be sunk no matter how hard you try. Sea kayaks are available but are best for the more experienced.
General Info
Where to kayak  around St Pete

If you want explore the beach and shallows near St Petersburg itself, kayaks can be rented at the Vinoy Yacht basin. That's great for relaxing and having some fun on the water, but going a little further can mean spectacular wildlife experiences. Lucky kayakers regularly spot dolphins and manatees.

Fort De Soto State Park is probably the nearest kayaking destination that gives that wilderness feel, or you can take the ferry out to Caladesi Island State Park and explore the mangroves. This one is a must for wildlife lovers and bird watchers.

Kayaks can be hired on the spot at both Caladesi and Fort De Soto parks, or you can choose where to start. Some of the best St Pete kayak rental companies will drop off your boats wherever you want to get into the water- see http://www.islandactionsports.com/ for example.


Sea kayaking

More experienced or intrepid kayakers might prefer a sea kayak. These are less stable and can take some skill to handle, but are faster and allow you to paddle much further- out to the islands for example. Sweetwater Kayaks in St Petersburg run some amazing day trips  as well as classes and courses. For something really different, try their Sunday morning Paddle Board Yoga class!
The Florida Circumnavigation Saltwater Paddling Trail

Serious paddlers flock to Florida to do the Circumnavigation Saltwater Paddling Trail, which is a unique 1515 mile sea kayaking route stretching from Pensacola almost all the way to the border with Georgia. It's an amazing route, whether you choose to paddle for an hour or for a week or two.

The section around St Pete runs for 45 miles from Anclote Key State Park to Fort De Soto Park (both wonderful places to kayak in their own right), and takes most experienced kayakers about 3 days.  If you're serious about kayaking but don't want to spend your whole vacation paddling, doing one of these segments is a good challenge. You can find detailed information on what to expect on each of the three days here.
Travel Tip
Double or single?

Older children can paddle their own boat or twin kayaks are available too- these work well for couples or for family groups. In some places it's even possible to hire triple kayaks, which suit two adults and a child or one adult and two kids. All kayak rental operators around St Pete Beach will also hand out life jackets for added safety.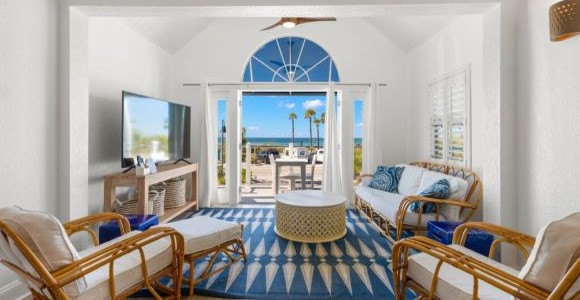 Magnolia
Located on the top floor of the Inn, the Magnolia is our "Honeymoon Suite" with Gulf and sunset views. This prime one-bedroom suite features the very best of the Inn with a king bedroom, bathroom with over-sized shower, living and dining area, fully sized kitchen, and private balcony.
Magnolia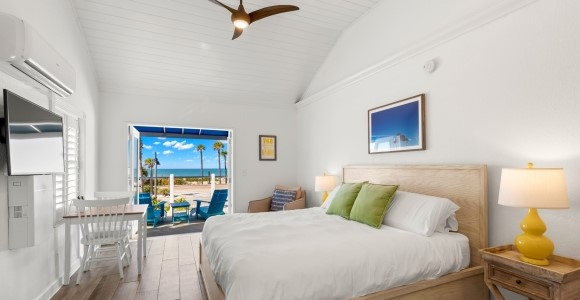 Gulfstream
Located on the top floor of the Inn, the Gulfstream comes complete with a king bed, cathedral ceiling, kitchenette, bathroom with shower, and wraparound balcony with Gulf and sunset views.
Gulfstream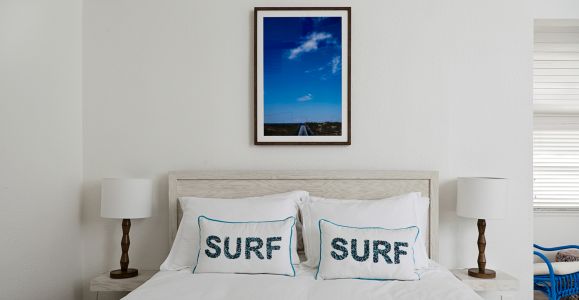 The Sea Loft
The Sea Loft is a second floor open plan apartment with a queen bed, fully equipped kitchen, living/dining area, sun porch, and balcony. The unit has cathedral ceilings giving it a spacious feel, and there are lots of windows providing stunning natural light. It's a peaceful, romantic escape just steps away from the Gulf of Mexico.

The Sea Loft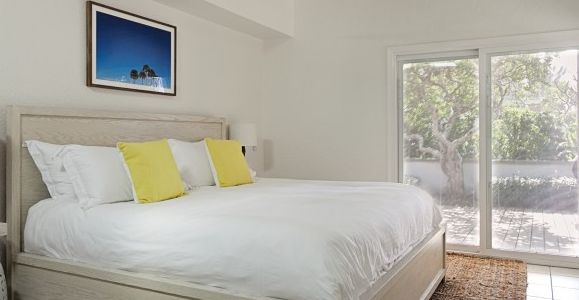 The Cottage
Next door to the Inn, this tranquil oasis has a large bedroom with a king bed plus a fully equipped kitchen. The living room is complete with seating area, cable television and a DVD player. The bathroom has a large shower. The outdoor deck has plenty of seating and a gas grill - perfect for outdoor suppers.
The Cottage