Scuba Diving around St Petersburg, FL
Scuba Diving around St Petersburg, FL
St Petersburg is one of the best places in Florida when it comes to water sports of all kinds, and scuba divers will find plenty to explore in the St Pete Beach area.
General Info
Diving the St Pete reefs

Think you have to go out to the keys for great diving? No way. Pinellas County has an extensive and fascinating collection of artificial reefs, including some wonderfully atmospheric wrecks. These act as magnets for marine life of all kinds and are carefully maintained for the benefit of divers and fishing enthusiasts.

There are 42 reefs to choose from, and because they were deliberately placed with divers in mind, most lie in shallow water and offer a relatively easy, relaxed experience.


The Sheridan: wreck diving at its best

The Sheridan was once an ordinary 180ft tug boat but now it's famous as one of the best dive sites in Florida. It's a great place to spot really huge Grouper, and there is usually plenty of other wildlife to see- Barracuda, Triggerfish, Snapper, and more.

The base of the Sheridan is at about 80ft- easily accessible within normal Open Water diving standards. Some of the compartments are open, so there's something to tempt more advanced divers as well. For a full underwater outing, combine it with a visit to the USCG Blackthorn, another excellent wreck just 100 yards away.

Freshwater diving: a Florida speciality

Although the reefs make for great diving, the St Petersburg area also has something a little different to offer. Crystal River is within easy reach (about 90 minutes by car), and its springs provide freshwater diving that can only be described as unique. The perfectly clear waters are home to some of Florida's most spectacular and iconic species, like the strange and wonderful manatee.

Some of the best dive spots around this area are access-restricted and there are no motorized boats allowed, which makes them even better for diving, swimming, and snorkelling. Local operators run excellent SCUBA tours.
Travel Tip
Learning to dive in St Pete

Most local dive shops (and there are plenty of them) offer the standard Open Water SCUBA course, after which you'll be licenced to dive independently and be able to get your tanks filled at any good dive store. Some, like Jim's Dive Shop  offer intensive SCUBA camp courses that pack all the necessary learning into a single week and top it off with fantastic boat diving experiences.

Of course, if you don't want to go the whole way, there is great snorkelling around this part of Florida as well. Take a look at our local snorkel guide or just hop on the ferry out to Shell Key.
Innkeeper's House
The perfect getaway for our guests who want to enjoy Inn on the Beach longer. This is a two-bedroom standalone home with plenty of room for a family of four. The Innkeeper's House features all of the at-home comforts you'd expect with a month-long stay, including its own private yard, parking, and outdoor patio.
Innkeeper's House
Persimmon
Persimmon features many windows to take advantage of fantastic natural light and landscaped gardens. The Persimmon does have a kitchenette and the bathroom has a shower.
Persimmon
Magnolia
Located on the top floor of the Inn, the Magnolia is our "Honeymoon Suite" with Gulf and sunset views. This prime one-bedroom suite features the very best of the Inn with a king bedroom, bathroom with over-sized shower, living and dining area, fully sized kitchen, and private balcony.
Magnolia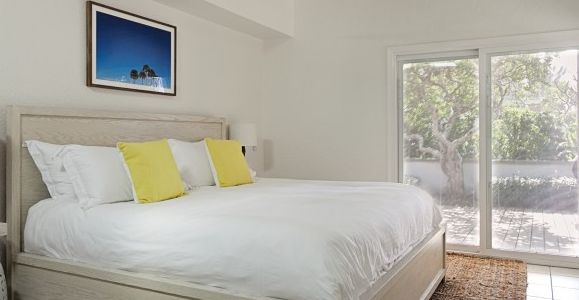 The Cottage
Next door to the Inn, this tranquil oasis has a large bedroom with a king bed plus a fully equipped kitchen. The living room is complete with seating area, cable television and a DVD player. The bathroom has a large shower. The outdoor deck has plenty of seating and a gas grill - perfect for outdoor suppers.
The Cottage
If you have any questions, please call 727.360.8844