Snorkeling St Pete Beach
Snorkeling is one of the most popular activities around St Pete beach and with good reason. Florida's beautiful clear waters and wealth of amazing wildlife make it an experience never to be forgotten. It's great for kids and adults alike and doesn't require expensive equipment- you can hire snorkels, masks, and fins or buy them fairly cheaply in St Petersburg. Just don't forget to wear sunscreen- with so much to see down there it's really easy to get burnt while snorkeling.
You can snorkel on St Pete Beach itself or in numerous quieter spots around Pass-a-Grille, but in order to see the best wildlife head for one of these locations:
General Info
Shell Key Snorkeling Trips

Some of the best snorkeling in the St Pete beach area is found at Shell Key, a stunning little island about half a mile out from Pass-a-Grille, and there is no better way to get there than to take the Shell Key Shuttle ferry service. They even provide free snorkels for customer use, along with beach umbrellas and shell bags. As the name suggests, the key is also the perfect place to go shelling.

Shell Key is superbly unspoiled, so expect to see a huge variety of underwater wildlife. Graceful stingrays are often seen and sometimes even manatees and dolphins.

Because the ferry leaves from Pass-a-Grille, it's very easy to access from Inn on the Beach.  Bring your own lunch and take plenty of water as there are no permanent facilities on the island.


Crystal River National Wildlife Refuge- Snorkel with Manatees

It's a little further afield, but if your heart is set on snorkeling with that most iconic of all Florida wildlife- the strange and wonderful manatee- you can do that too far from St Petersburg. Crystal River National Wildlife Refuge is at its best for manatee spotting from November to March, but they can be seen all year round.

There is a visitor center at Crystal River, and snorkelers can arrange their own equipment or join a guided tour. Much of the reserve is best accessible by boat, so if you're planning to rent a vessel in St Pete and explore it's a great point to head for. Organized tours are also available if you're rather someone else took care of the details.
Travel Tip
Snorkel with the Dolphins at Egmont Key and Fort Dade

If snorkeling with dolphins is more your style, take a trip out to Egmont Key. Snorkel cruises leave from St Pete Beach daily and private charters are easily available for larger groups.

Seeing the dolphins at play is an incredible experience, but there is another treat in store for snorkelers at Egmont. You can actually swim and snorkel over the ruins of Fort Dade, a relic from the Spanish-American War that is now home to octopus and the dazzling array of fish that only Florida can provide.
Sunset
The Sunset overlooks the courtyard allowing the Pass-A-Grille sunshine to enter this bright and sunny room. Your private balcony welcomes views of the gulf in gorgeous Pass-A-Grille.
Sunset
Orange Blossom
The Orange Blossom is located on the ground floor of the Inn with views of the garden. It comes with a queen sized bed with modem decor and natural light. The kitchenette has all the modern amenities.
Orange Blossom
Gardenia
The Gardenia is bright and spacious with its own private balcony with views of the gulf. The sleeping area has a queen bed, so the room accommodates two people. Enjoy the views from your comfy couch or from the Adirondack chairs on your private balcony. Fill the cooler provided with your beach snacks and head for the sand!
Gardenia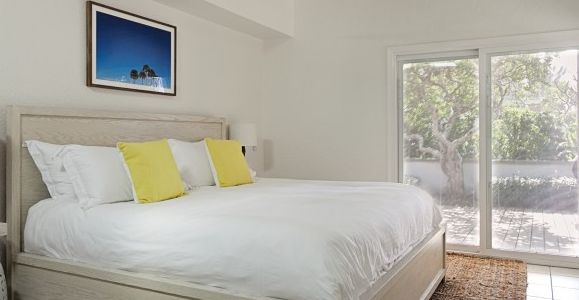 The Cottage
Next door to the Inn, this tranquil oasis has a large bedroom with a king bed plus a fully equipped kitchen. The living room is complete with seating area, cable television and a DVD player. The bathroom has a large shower. The outdoor deck has plenty of seating and a gas grill - perfect for outdoor suppers.
The Cottage
If you have any questions, please call 727.360.8844