St Pete Beach Bars
It's beautiful during the day, but St Pete Beach comes alive at night.  After those hot Florida days, a beach bar is the perfect place to cool down, relax, and enjoy some of the best food and drink the Tampa Bay area can offer.
Now, there are plenty of choices, so these are just a few of our favorite St Pete Beach bars and nightlife hotspots. Go looking and you'll probably find some favorites of your own!
General Info
Beach Drive is home to a fabulous array of beach bars, cafes, and late-opening stores, as well as excellent restaurants. It's popular with locals as well as visitors, so you know it's good. In fact, we think Beach Drive at night is the perfect balance between serene beach parks and lively nightlife.

There are too many beach bars in this area to list them all, so we recommend just taking a walk along the beach and picking out whichever you like. Choose from high-end cocktails to old-English beer pubs and enjoy the sea views and relaxed atmosphere.

St Pete Beach loves festivals. There is almost always something special happening and some great regular events as well. On the first Friday of every month, Central Avenue hosts an outdoor nightlife street party with live music, food and drink until 10pm.


If you feel like a truly authentic experience of St Pete Beach nightlife, Shadrack's is the place to go. It's a little more wild and they don't serve much food, but there certainly is a full selection of liquors to choose from. Pool and video games are on offer, as well as the traditional jukebox.

Shadrack's is located in the historic 8th Avenue district and it's usually easy to find. Just look for the row of Harleys out front.
It's not exactly on the sand, but The Wharf is definitely one of the best bars on St Petersburg Beach. Surrounded by docks and with a cool, salty sea breeze often wafting right through, there are water views out to Tierra Verde and Shell Key. It's a great place to go for a drink whether you want a jug of beer, shots, or a good glass of wine. And don't stop there- you shouldn't leave without sampling some of the best old-fashioned Key West seafood Florida has to offer.
Travel Tip
The Wharf is open til 11 every night except Thanksgiving. It's an easy walk from Inn on the Beach but if you've hired a boat, you can tie up right outside.
Magnolia
Located on the top floor of the Inn, the Magnolia is our "Honeymoon Suite" with Gulf and sunset views. This prime one-bedroom suite features the very best of the Inn with a king bedroom, bathroom with over-sized shower, living and dining area, fully sized kitchen, and private balcony.
Magnolia
Sunset
The Sunset overlooks the courtyard allowing the Pass-A-Grille sunshine to enter this bright and sunny room. Your private balcony welcomes views of the gulf in gorgeous Pass-A-Grille.
Sunset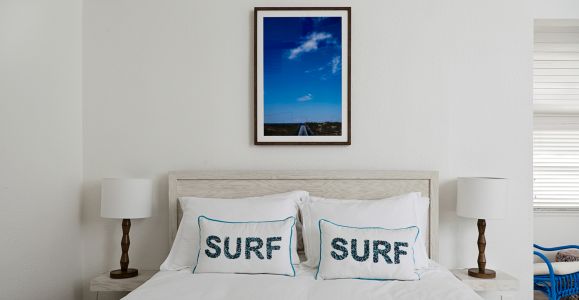 The Sea Loft
The Sea Loft is a second floor open plan apartment with a queen bed, fully equipped kitchen, living/dining area, sun porch, and balcony. The unit has cathedral ceilings giving it a spacious feel, and there are lots of windows providing stunning natural light. It's a peaceful, romantic escape just steps away from the Gulf of Mexico.

The Sea Loft
Juneberry
Juneberry Room is bright and airy, with a queen bed, on the top floor of the Inn. The kitchenette has a fridge, Breville multi-funtion oven, and plenty of kitchen supplies. The bathroom has a shower and shelf space for your personal items. The entire room is air conditioned, with a flat screen TV and great Wifi. We have also stocked the room with a small cooler which can hold your beverage and snack supplies when you lounge on the beach!
Juneberry