St Pete Beach Restaurants
St Pete Beach Restaurants
There are plenty of amazing restaurants in St Pete Beach and Pass-A-Grille in particular. Not surprisingly, local seafood is a speciality but whatever kind of cuisine you feel like, it won't be far away. Most restaurants in the St Pete area are relaxed and family-friendly, and there are some really fantastic beachside and waterfront dining options. Here are a selection of our favorites:
General Info
The Hurricane, 807 Gulf Way

The Hurricane is a spectacular building with wide, cool verandas all round and classic Florida palms out front. There are sea views over the Gulf, especially for those who chose to sit outdoors. Time your visit right and it's a wonderful place to sit in comfort and enjoy the sunset.

This restaurant boasts a full liquor bar and a huge variety of seafood, particularly crab. From mid October to mid May you can have local St Pete stone crab fresh from the boat, or perfectly cooked steak or beef burgers, or some mouth-watering seafood salads all year round. The Hurricane also does a selection of gourmet sandwiches and wraps, perfect for a luxury (but very reasonably priced) vacation lunch. Best of all, it's just a casual stroll from Inn on the Beach.


The Brass Monkey, 709 Gulf Way

A little more casual than the Hurricane and with a bright, cheerful atmosphere that makes it the perfect complement to a day on the beach.  Prices are good and the menu varied, but all fresh and tasty.  Their speciality dish is 'Monkey Wings'- choose from seven different wing flavors with optional extra toppings.

The Brass Monkey is located in the historic 8th Avenue shopping district in Pass-A-Grille, so stop by and pick up a few souvenirs of your stay in St Pete Beach after lunch or- if you're a more serious shopper- take a break from a day of bargain hunting and try the blackened tuna salad or the Jack Daniels BBQ Shrimp.

The Wharf, 2001 Pass-A-Grille Way

A critically-acclaimed, award-winning seafood restaurant, The Wharf serves up sea breezes alongside unbeatable Florida fare, all washed down with the kind of ocean views only a St Pete restaurant can provide.

The wharf that gives the restaurant its name dates back more than 100 years. The setting is casual but elegant and the food really excellent. Menu highlights include jalapeno conch fritters, crab claws in scampi butter, oyster diane, and cornmeal-friend catfish. On Tuesdays, it's fish fry day and that means some of the best fish and chips in Florida.

In the evenings, The Wharf is also a relaxed bar and a local hangout known for good beer and that nice cool breeze.
Travel Tip
Go Vegan at Vida De Café, 120 8 Avenue St

Vida De Café is the first and best vegan and raw food restaurant in St Pete Beach, and it's the kind of place that could convert the most ardent meat-lover. It's eco-friendly, healthy, and your food comes with positive vibes served up by friendly staff. Try the mushroom tostada, barley chili soup, raw food tacos or zucchini pad thai.

If you feel like eating out on the sand, the café also does takeout, and if you like what you taste, they also teach cookery.
Gulfstream
Located on the top floor of the Inn, the Gulfstream comes complete with a king bed, cathedral ceiling, kitchenette, bathroom with shower, and wraparound balcony with Gulf and sunset views.
Gulfstream
Persimmon
Persimmon features many windows to take advantage of fantastic natural light and landscaped gardens. The Persimmon does have a kitchenette and the bathroom has a shower.
Persimmon
Clementine
Located on the ground floor of the Inn, Clementine Room has a queen bed and small kitchenette. The well-appointed bathroom has a shower with glass doors.
Clementine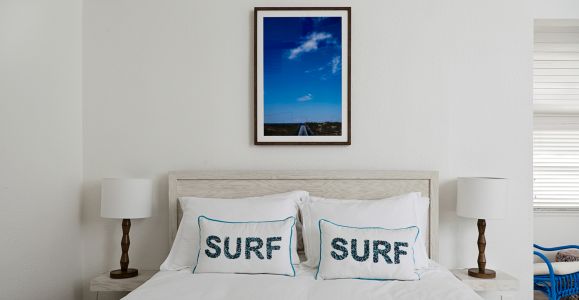 The Sea Loft
The Sea Loft is a second floor open plan apartment with a queen bed, fully equipped kitchen, living/dining area, sun porch, and balcony. The unit has cathedral ceilings giving it a spacious feel, and there are lots of windows providing stunning natural light. It's a peaceful, romantic escape just steps away from the Gulf of Mexico.

The Sea Loft