St Pete Beach Restaurants
St Pete Beach Restaurants
There are plenty of amazing restaurants in St Pete Beach and Pass-A-Grille in particular. Not surprisingly, local seafood is a speciality but whatever kind of cuisine you feel like, it won't be far away. Most restaurants in the St Pete area are relaxed and family-friendly, and there are some really fantastic beachside and waterfront dining options. Here are a selection of our favorites:
General Info
The Dewey, 109 8th Avenue St

The Dewey boasts a rooftop bar and the restaurant features re-imagined beach cuisine, a destination driven wine list and craft cocktails that belong at the beach. It is a creative yet quintessential interpretation of a dining and drinking establishment that belongs 99 steps from the Gulf of Mexico.

Scrumptious Sunday brunches, delicious refreshing cocktails and tasty dishes with local seafood are some of the highlights to enjoy while you're staying at the Inn!
The Brass Monkey, 709 Gulf Way

A large outdoor balcony area with an unbeatable sunset view and with a bright, cheerful atmosphere that makes it the perfect complement to a day on the beach.  Prices are good and the menu varied, but all fresh and tasty.  Their speciality dish is 'Monkey Wings'- choose from seven different wing flavors with optional extra toppings.

The Brass Monkey is located in the historic 8th Avenue shopping district in Pass-A-Grille, so stop by and pick up a few souvenirs of your stay in St Pete Beach after lunch or- if you're a more serious shopper- take a break from a day of bargain hunting and try the blackened tuna salad or the Jack Daniels BBQ Shrimp.

Paradise Grille, 6850 Beach Plaza

They are the only spot right on the beach front, open for drinks, snacks, breakfast, lunch and dinner until half an hour after sunset.

There is a sunset bell that is rung every night by some lucky person and there are beach cabanas and SUPs available for use. A couple of beach-friendly wheelchairs are also available there at no charge for anyone who needs them.
Travel Tip
Try Something New at
Grace Restaurant, 120 8th Avenue St

Their unique menu featuring special weekly additions represents the best of what our local area has to offer.

Their passion for sourcing the freshest ingredients from local farmers and suppliers, combined with traditional flavor and rewriting familiar recipes into exceptional cuisine is our mission and greatest joy.
Persimmon
Persimmon features many windows to take advantage of fantastic natural light and landscaped gardens. The Persimmon does have a kitchenette and the bathroom has a shower.
Persimmon
Clementine
Located on the ground floor of the Inn, Clementine Room has a queen bed and small kitchenette. The well-appointed bathroom has a shower with glass doors.
Clementine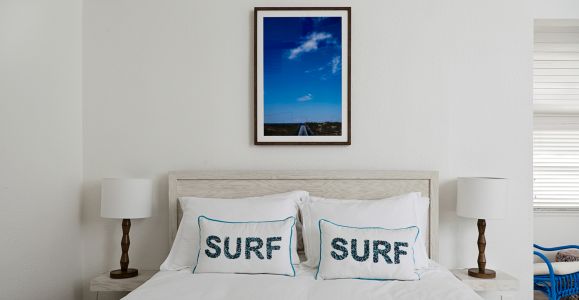 The Sea Loft
The Sea Loft is a second floor open plan apartment with a queen bed, fully equipped kitchen, living/dining area, sun porch, and balcony. The unit has cathedral ceilings giving it a spacious feel, and there are lots of windows providing stunning natural light. It's a peaceful, romantic escape just steps away from the Gulf of Mexico.

The Sea Loft
Corraline
The Corraline is bright and cheerful, features one-bedroom (king bed), a large walk-in closet, and a fully-equipped kitchen. The living-dining area looks out on the tropical plants surrounding your private patio which is just steps away from the white sandy beach. This private apartment sleeps two adults.
Corraline