St Pete Beach

St Pete Beach

St Pete Beach
St Pete Beach
St Pete Beach is one of the best in Florida and it's not just us saying that! St Petersburg is famous for the beautifully preserved waterfront, for a huge range of festivals and a full events calendar to keep both visitors and local busy, and for some truly fantastic weather- 360 sunshine days a year on average.
General Info
The sand

It's a great city, with a rich nightlife and culture, and great shopping opportunities but the main attraction is, of course, St Petersburg Beach itself. There is quite literally miles of sandy beach to walk along, with that perfect white sand under your toes. Because of the length of the beach and the careful preservation efforts (especially around the Pass-A-Grille and Fort De Soto areas), it's equally easy to find somewhere quiet to enjoy a sea breeze or somewhere to enjoy a drink and some live music right by the sea.

St Pete Beach is fringed with perfect, swaying palm trees and lush green grass. It's so warm that both Royal and Coconut palms flourish in the area.

Technically, there actually more than one beach to choose from. Spa Beach and North Shore beach both adjoin downtown St Petersburg itself, then there is Pass-A-Grille beach at the southern end. Pass-A-Grille is the closest to Inn on the Beach, and is a little more laid back than the busy fun of the other St Pete Beaches. Ft De Soto Beach is also within easy reach. This is part of a 900 acre country park and is superbly unspoiled and natural.
The sea

The water is clear and usually very calm, perfect for swimming, kayaking, stand-up paddleboarding, boating, and jet-skiing. Hire is available right on St Pete Beach and there are no less than nine public boat ramps. You can take a trip out to the barrier islands to spot iconic Florida wildlife (take the Shell Key Shuttle from Pass-A-Grille beach) or paddle in warm, safe water just a couple of minutes from your hotel.

The gentle water is great for nervous swimmers and children, but also handy for watersports enthusiasts- it's the perfect place to try something new and exciting.
After dark

Because the city comes right up the beach, St Pete downtown beaches have some of the best waterside drinking and dining in Florida.  It's stunning during the day, beautiful (and romantic!) at sunset, and there is a flourishing beach bar scene to light up the nights.
Travel Tip
Wharfside restaurants serve up seafood just as fresh as it can possibly be, and even in the evenings the atmosphere is relaxed and family-friendly.
Innkeeper's House
The perfect getaway for our guests who want to enjoy Inn on the Beach longer. This is a two-bedroom standalone home with plenty of room for a family of four. The Innkeeper's House features all of the at-home comforts you'd expect with a month-long stay, including its own private yard, parking, and outdoor patio.
Innkeeper's House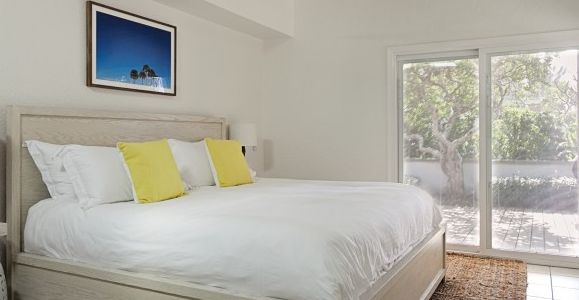 The Cottage
Next door to the Inn, this tranquil oasis has a large bedroom with a king bed plus a fully equipped kitchen. The living room is complete with seating area, cable television and a DVD player. The bathroom has a large shower. The outdoor deck has plenty of seating and a gas grill - perfect for outdoor suppers.
The Cottage
Gulfstream
Located on the top floor of the Inn, the Gulfstream comes complete with a king bed, cathedral ceiling, kitchenette, bathroom with shower, and wraparound balcony with Gulf and sunset views.
Gulfstream
Corraline
The Corraline is bright and cheerful, features one-bedroom (king bed), a large walk-in closet, and a fully-equipped kitchen. The living-dining area looks out on the tropical plants surrounding your private patio which is just steps away from the white sandy beach. This private apartment sleeps two adults.
Corraline
If you have any questions, please call 727.360.8844