Swimming with the manatees can be a truly spectacular adventure for people of all ages. No matter if you are coming for a girls weekend, a family vacation, or a couples retreat at Inn on the Beach, you don't want to miss spending time with the sweet creatures.
Swim with Manatees and Stay at our Hotel in St Pete Beach
Spending time with manatees, also lovingly called sea cows, can be a fun and magical experience when visiting the Florida coast. At Inn on the Beach, you will be close to many manatee sighting locations such as Crystal River. Just a short jaunt north from your relaxing stay, you can snorkel and swim with these gentle giants. If you prefer to be on dry land when watching the manatees, Tampa Electric's Manatee Viewing Center, a designated manatee sanctuary, is just an hour away.

Tour Rooms
General Info
When encountering these gentle sea cows, you must always be aware of the rules put into place to protect them. Learning how and where to swim with the manatees is important to making your trip a success. These rules include, only being able to touch a manatee if they touch you first. Once that event happens you must be aware that you can only touch with one hand. Using two hands on a manatee is illegal. You should only touch their back or stomach once you get an opportunity.

Make sure that when you get into the water, you try to prevent any splashing and keep your movements slow and gentle. This makes it more likely a manatee will feel safe enough to come up and inspect you. Your tour guide will make sure you review these rules before you jump in.
These social animals really enjoy interacting with humans, but do get bored with us as the day goes on. Make sure to get out there early to get the best out of your manatee sightseeing time. With Crystal River only an hour and a half away, you can get the best of both worlds when staying at our hotel.
Travel Tip
At Crystal River, there is a herd of manatees that stay there year round. Even so, the best time to swim with manatees in Florida is November through March when the manatees congregate near warm water springs. With clearer waters that are starting to warm, many people prefer visiting the manatees during March.
Hibiscus
Hibiscus and the Palmetto share a semi-private patio overlooking the gardens. Relax and enjoy the slower pace of Pass-A-Grille at our inn on the beach. The room is cool and comfy and comes with a complete kitchen.
Hibiscus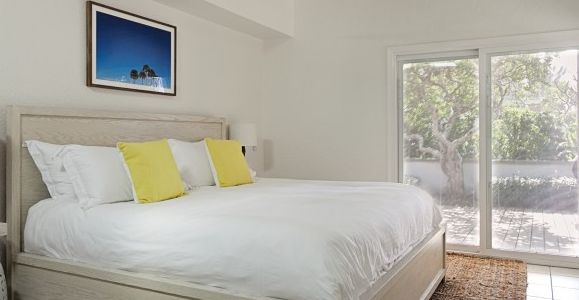 The Cottage
Next door to the Inn, this tranquil oasis has a large bedroom with a king bed plus a fully equipped kitchen. The living room is complete with seating area, cable television and a DVD player. The bathroom has a large shower. The outdoor deck has plenty of seating and a gas grill - perfect for outdoor suppers.
The Cottage
Orange Blossom
The Orange Blossom is located on the ground floor of the Inn with views of the garden. It comes with a queen sized bed with modem decor and natural light. The kitchenette has all the modern amenities.
Orange Blossom
Clementine
Located on the ground floor of the Inn, Clementine Room has a queen bed and small kitchenette. The well-appointed bathroom has a shower with glass doors.
Clementine