Things to do on Shell Key Preserve
Things to do on Shell Key Preserve
Shell Key Preserve is one of the best things about staying in a hotel in Pass-A-Grille. In fact, it's one of the best things about the whole of the St Pete area! We recommend that everyone who stays with us takes the time to hop on the Shell Key Shuttle (just a short walk from the hotel) and spend the day on this beautiful barrier island.
The shuttle will take you out to Shell Key, which is just off the coast south of Pass-A-Grille, and pick you up again later in the day. There are also sunset cruises available for those with a romantic side.
Shell Key is wonderfully quiet. Take a picnic lunch and a blanket and just watch the stress melt away. The warm, shallow waters are ideal for a little wading or relaxed swimming. Many people go out to Shell Key for a day of complete relaxation with a cooler and a good book, but there is plenty to do as well.
General Info
Shelling

As the name suggests, Shell Key Preserve is the perfect place to go for shelling. The shuttle offers free shell bags so you can wander peacefully along the beach and collect sand dollars and other treasures from the sea. For the best shells, walk a little further and explore the less visited areas of the island. You never know what you might find.


Snorkeling

Shell Key Shuttle also provides free snorkels. Whether you're a seasoned diver or have never tried snorkeling before, this is a great place to try it. There are calm waters and plenty of safe places to swim as well as fantastic wildlife. There's plenty to see around Shell Key and only half of it is visible above the water line!
Birding and wildlife watching

The Preserve is also an important haven for wildlife. Some areas are reserved for birds only-no human beings allowed- but if you love birds, bring your binoculars and you'll have a day to remember. During Spring, Winter, and Fall thousands of birds visit Shell Key and the surrounding islands, including spectacular Black Skimmers and American Oystercatchers.

Dolphins are not uncommon around the Key, and sometimes lucky visitors will also spot a manatee or two in summer. Taking a cruise around the barrier islands is usually the surest way to spot both these wonderful mammals.
Travel Tip
Fishing

Fishing (within the usual Federal and State regulations) is allowed in Shell Key Preserve, and the shallow waters are ideal for catching Redfish, Speckled Trout, Flounder, Pompano, and Spanish Mackerel. Be sure to bring bait and tackle with you.

Because Shell Key is conserved and managed to keep it as unspoiled as possible, there are no permanent facilities on the island. That means no toilets and nowhere to get snacks or drinks, so be sure to bring plenty of your own.
Sea Grape
Sea Grape Suite is located on the top floor of the Inn and features a luxurious queen size bed in the bedroom plus a daybed in the living area. The large kitchen has everything you would expect to find to prepare meals. The balcony is a great place to enjoy your morning coffee. Fill the small cooler with your beach snacks and head for the sand!
Sea Grape
Palmetto
Located on the ground floor, Palmetto Room has two queen beds, a fully equipped kitchenette, generous-sized shower and breezy patio. This room accommodates up to four people, including children.
Palmetto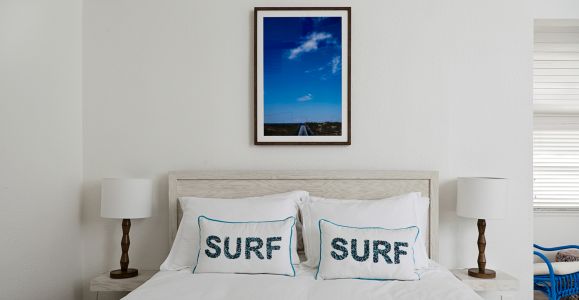 The Sea Loft
The Sea Loft is a second floor open plan apartment with a queen bed, fully equipped kitchen, living/dining area, sun porch, and balcony. The unit has cathedral ceilings giving it a spacious feel, and there are lots of windows providing stunning natural light. It's a peaceful, romantic escape just steps away from the Gulf of Mexico.

The Sea Loft
Corraline
The Corraline is bright and cheerful, features one-bedroom (king bed), a large walk-in closet, and a fully-equipped kitchen. The living-dining area looks out on the tropical plants surrounding your private patio which is just steps away from the white sandy beach. This private apartment sleeps two adults.
Corraline