Inn on the Beach Eco Hotel
Inn on the Beach is an eco-friendly hotel. For us, that means taking real steps to make sure that our environmental footprint is as small as possible. Here are a few of the things we do every day to keep the hotel green:
Recycle all the plastic, glass, aluminum, paper, and cardboard we can. If every guest has a newspaper each morning, just that paper alone makes a good amount of recycling material.
Donate part-used shampoos and lotions to a drop-in center for the homeless. That way every drop gets used and we also get to help vulnerable people.
Recycle part-used soaps through the Clean The World program. This fantastic charity helps people in developing countries fight preventable diseases. They have distributed more than 22 million bars of soap across the world.
Use responsible, environmentally sound cleaning products in maid services and in the kitchen. We pay attention to everything that goes down the drain.
All that beautiful sunshine means fresh water is an important issue on the Gulf Coast. Instead of using clean drinking water for irrigating the gardens, we use reclaimed water and participate in the SouthWest Water Management District Water Champ program. In just one year, we and fellow green hotels, businesses, and other organizations saved 177 million gallons of water.
Eco-friendly hotels are a must here in Florida, even more so than in some other places. Most people come to this beautiful part of the world to enjoy the outstanding natural beauty and we want to be part of keeping St Pete Beach as unspoiled as possible!
Palmetto
Located on the ground floor, Palmetto Room has two queen beds, a fully equipped kitchenette, generous-sized shower and breezy patio. This room accommodates up to four people, including children.
Palmetto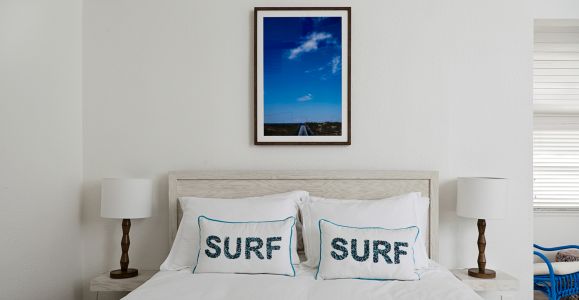 The Sea Loft
The Sea Loft is a second floor open plan apartment with a queen bed, fully equipped kitchen, living/dining area, sun porch, and balcony. The unit has cathedral ceilings giving it a spacious feel, and there are lots of windows providing stunning natural light. It's a peaceful, romantic escape just steps away from the Gulf of Mexico.

The Sea Loft