Historic 8th Avenue Business District
Historic 8th Avenue Business District
Pass-A-Grille's Historic 8th Avenue Business District is one of the last places along the gulf coast where you can still experience Old Florida, complete with striped awnings and great old architecture. It's a great place to take a walk, go shopping, eat out, or just soak up the atmosphere.  The walk from the hotel takes a few minutes, no need for a car.
Ripley's Believe it or Not once listed 8th Avenue as the shortest main street in the country, and it is only about 250 yards long. However, there is plenty to see and do and it's easy to spend a whole afternoon. Here's a few suggestions:
General Info
Eat at the Sea Horse

The Sea Horse is a beautifully old-fashioned Florida eatery. It has been around since the 30s and is still going strong. Locals regard it as the best place in town for breakfasts (served all day every day but Tuesday, when it's closed). Sitting outside on the green wooden benches watching the boats pass by, you could easily have stepped back in time half a century or more. Joe DiMaggio ate here and if it's good enough for Joe…
Get your fish at Merry Pier

Merry Pier is a historic attraction in itself, with the store dating back to 1902. The dock is even older. It is also one of St Pete Beach's best fishing spots. Catch your own with rod and tackle rented from the bait shop or buy from the on-site fish market. If your room has kitchen facilities, that means you can cook up the freshest of fresh local seafood in comfort. If not, how about a barbeque? The courtyard grill is available for guest use.

Go Window Shopping

Looking for great shopping on the historic 8th Av? You definitely want to stop by Bamboozle, a clothing and accessory boutique. It stocks items ranging from outerwear to shoes, as well as accessories such as hats and handmade jewelry and other unique items.

When it is open Evander Preston's Gallery is unmissable, featuring his handmade jewelry.
Try a Pass-A-Chino at Paradise Sweets

Icecream and the beach go together like strawberries and cream, and Paradise Sweets is the place to go for truly excellent gourmet icecream and candies. Of course kids will love it here, but it's also a cool, shady haven for adults.

The Pass-A-Chino is a grown up coffee and icecream indulgence, and there is also free wifi. If you need to catch up some emails during your stay at Inn on the Beach and don't want to stay in your room, go along and treat yourself.


Travel Tip
Take home a Souvenir from Paradise Sweets

Sit for long enough in one of the beautiful handmade wooden chairs and you might just want to take it with you- and you can! Local man Markus Lehtovirta makes these chairs and will ship them home for you. We think these are some of the best souvenirs of Pass-A-Grille money can buy.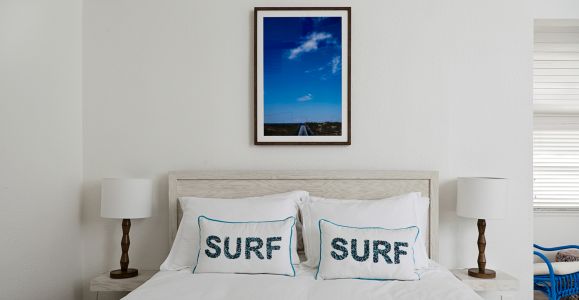 The Sea Loft
The Sea Loft is a second floor open plan apartment with a queen bed, fully equipped kitchen, living/dining area, sun porch, and balcony. The unit has cathedral ceilings giving it a spacious feel, and there are lots of windows providing stunning natural light. It's a peaceful, romantic escape just steps away from the Gulf of Mexico.

The Sea Loft
Gulfstream
Located on the top floor of the Inn, the Gulfstream comes complete with a king bed, cathedral ceiling, kitchenette, bathroom with shower, and wraparound balcony with Gulf and sunset views.
Gulfstream
Hibiscus
Hibiscus and the Palmetto share a semi-private patio overlooking the gardens. Relax and enjoy the slower pace of Pass-A-Grille at our inn on the beach. The room is cool and comfy and comes with a complete kitchen.
Hibiscus
Sea Grape
Sea Grape Suite is located on the top floor of the Inn and features a luxurious queen size bed in the bedroom plus a daybed in the living area. The large kitchen has everything you would expect to find to prepare meals. The balcony is a great place to enjoy your morning coffee. Fill the small cooler with your beach snacks and head for the sand!
Sea Grape