Jetskiing, Sea-Doo and WaveRunners near our Hotel on St Pete Beach
If you are looking for an exciting sporting activity to do while visiting us here at Inn on the Beach in St Pete, you should consider putting jet-skiing on the top of your list. With convenient Jet Ski rental locations in St Petersburg, Clearwater, and Treasure Island, your Jet Ski adventure can be at your fingertips. You just need to pick the views you want to experience while jetting around.
Watercraft Rentals in St Petersburg, Florida
Whether you are looking for a WaveRunner, Sea-Doo or a Jet Ski experience, watercraft rental locations are open year round! Inn on the Beach is located in a prime location — close walking and driving distance to many rental options.
Many rental locations also provide guided tours for dolphin, manatee, and manta ray sightings along with tours of other quintessential locations like Shell Key Preserve  and the barrier islands. Check online to see all of the available options to get the most out of your day riding the waves.
General Info
Jet Ski rentals are typically done per hour and getting an advance reservation during peak tourist times can help guarantee you an afternoon of fun.
Age Requirements

You must have a photo I.D. and be 18 to drive a Jet Ski by yourself. Children 15 and up can drive with the assistance of an adult. Also, anyone born after 1988 needs a safe boaters license. You can acquire one online before or check to see if the location you are renting from provides a temporary license. Typically this is done by taking a short multiple choice test, that once passed, provides you with a year-long temporary boaters license.

Travel Tip
Come prepared for a day of fun with your hair whipping in the wind as you jump waves just like the dolphins who call our area home. Many locations offer safety courses and gear to make your jet-skiing trip successful and safe. Bring your own goggles or sunglasses to make sure you are comfortable and ready to ride all day. Jet-skiing can be a fun and exciting way to get to see St Pete and all it has to offer.
Corraline
The Corraline is bright and cheerful, features one-bedroom (king bed), a large walk-in closet, and a fully-equipped kitchen. The living-dining area looks out on the tropical plants surrounding your private patio which is just steps away from the white sandy beach. This private apartment sleeps two adults.
Corraline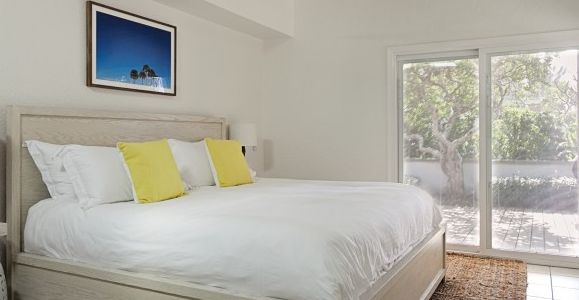 The Cottage
Next door to the Inn, this tranquil oasis has a large bedroom with a king bed plus a fully equipped kitchen. The living room is complete with seating area, cable television and a DVD player. The bathroom has a large shower. The outdoor deck has plenty of seating and a gas grill - perfect for outdoor suppers.
The Cottage
Innkeeper's House
The perfect getaway for our guests who want to enjoy Inn on the Beach longer. This is a two-bedroom standalone home with plenty of room for a family of four. The Innkeeper's House features all of the at-home comforts you'd expect with a month-long stay, including its own private yard, parking, and outdoor patio.
Innkeeper's House
Sea Grape
Sea Grape Suite is located on the top floor of the Inn and features a luxurious queen size bed in the bedroom plus a daybed in the living area. The large kitchen has everything you would expect to find to prepare meals. The balcony is a great place to enjoy your morning coffee. Fill the small cooler with your beach snacks and head for the sand!
Sea Grape