Florida Hotel Rooms with King Size Bed
Stretch out after a long day. Or maybe you prefer a little extra room when creating the perfect romantic getaway with your partner. Either way, you'll be glad you're staying at our hotel with king-size beds in St. Pete Beach. After a long fun day romping around the ocean, visiting local Pass-A-Grille attractions, and enjoying the local restaurant scene, you can come back and enjoy a luxurious night in your very own king-size bed. Topped with supple 400-thread count linen sheets, you can relax in luxurious style every night. 
Our Hotel Rooms with King-Size Beds
Whether you like a lot of room when sleeping or need more room when sharing a bed with your partner, our hotel with king-size beds is the perfect place to stay. Rooms can also include full-sized kitchens or nicely sized kitchenettes. From ground flood patios to second-floor rooms with private balconies, we have first-rate amenities to make your experience in Pass-A-Grille perfect.  
Come sleep like a king and make yourself at home in our St. Pete Beach hotel. Treat yourself to a vacation by the beach. With soft white sands and glorious blue waters, each day will be eye candy as you
adventure around town, 
visit Shell Key Preserve, 
head up to the skies parasailing, 
try out standup paddleboarding, or 
dine at 5-star local restaurants.
Let us help you create memories to last a lifetime by joining us where you can spread out and sleep-in on your very own king-size bed.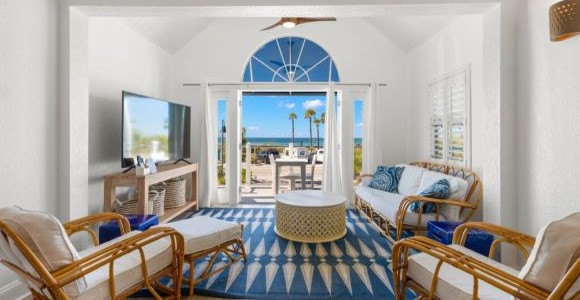 Magnolia
Located on the top floor of the Inn, the Magnolia is our "Honeymoon Suite" with Gulf and sunset views. This prime one-bedroom suite features the very best of the Inn with a king bedroom, bathroom with over-sized shower, living and dining area, fully sized kitchen, and private balcony.
Magnolia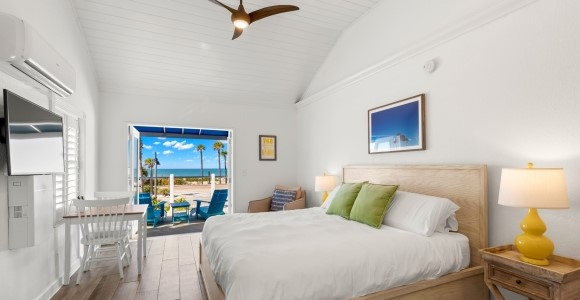 Gulfstream
Located on the top floor of the Inn, the Gulfstream comes complete with a king bed, cathedral ceiling, kitchenette, bathroom with shower, and wraparound balcony with Gulf and sunset views.
Gulfstream
Sunset
The Sunset overlooks the courtyard allowing the Pass-A-Grille sunshine to enter this bright and sunny room. Your private balcony welcomes views of the gulf in gorgeous Pass-A-Grille.
Sunset
Persimmon
Persimmon features many windows to take advantage of fantastic natural light and landscaped gardens. The Persimmon does have a kitchenette and the bathroom has a shower.
Persimmon
Hibiscus
Hibiscus and the Palmetto share a semi-private patio overlooking the gardens. Relax and enjoy the slower pace of Pass-A-Grille at our inn on the beach. The room is cool and comfy and comes with a complete kitchen.
Hibiscus
Corraline
The Corraline is bright and cheerful, features one-bedroom (king bed), a large walk-in closet, and a fully-equipped kitchen. The living-dining area looks out on the tropical plants surrounding your private patio which is just steps away from the white sandy beach. This private apartment sleeps two adults.
Corraline