St Petersburg Vacation Rentals – Beachside
We offer St Pete Beach vacation rentals on the beachfront. Inn on the Beach has two vacation cottages available for rental, and they are barely a stone's throw from the sand.
In St Petersburg itself, vacation rentals on the beach are hard to come by. The waterfront is a busy place (try out the nightlife one evening), but Pass-A-Grille is perched right out on the southern end of St Pete Beach and is a little quieter. Our beautiful beachside rental cottages are just opposite the Gulf, with all the benefits that brings, from spectacular sunsets to cooling ocean breezes.
We have two self-contained rentals to offer- The Cottage and Inn Keeper's House. There is also a self-contained apartment available within the hotel itself, but if you want to step out your door and see the water, try one of those two.
By choosing a beachfront vacation cottage in Pass-A-Grille, you're also choosing to be close to some of the best attractions in the St Pete area. Walk down to the pier and catch a shuttle out to Shell Key for the day, go shopping in the historic 8th Avenue Business District, eat in amazing (and very well priced) local restaurants, or just enjoy the beach at sunset.
Innkeeper's House
The perfect getaway for our guests who want to enjoy Inn on the Beach longer. This is a two-bedroom standalone home with plenty of room for a family of four. The Innkeeper's House features all of the at-home comforts you'd expect with a month-long stay, including its own private yard, parking, and outdoor patio.
Innkeeper's House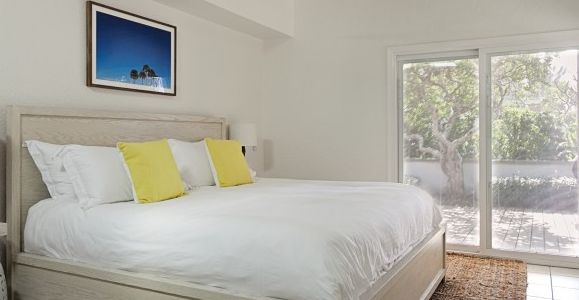 The Cottage
Next door to the Inn, this tranquil oasis has a large bedroom with a king bed plus a fully equipped kitchen. The living room is complete with seating area, cable television and a DVD player. The bathroom has a large shower. The outdoor deck has plenty of seating and a gas grill - perfect for outdoor suppers.
The Cottage
If you have any questions, please call 727.360.8844